The IKEA Adelaide Solar and Battery Microgrid developed in partnership with Planet Ark Power, is an industry leading grid interactive solar and battery microgrid project located at IKEA's Adelaide retail store.
Project name: IKEA Microgrid
Location: IKEA Adelaide, Adelaide Airport
Nameplate solar capacity: 1.2MWp
Nameplate battery capacity: 3.36MW / 3.45MWh
Average solar generation: 1.85 GWh p/a
Number of homes powered: 370 p/a
Avoided emissions (t CO2–e): 795 p/a
Expected commissioning - solar: mid 2021
Expected Commissioning - battery: early 2022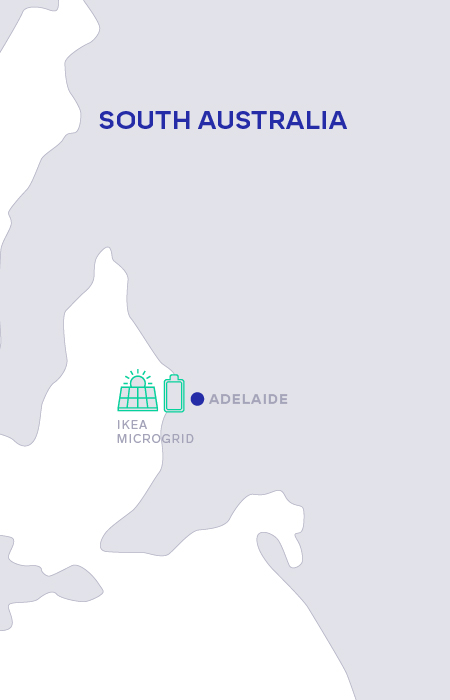 About the IKEA Adelaide Solar and Battery Microgrid
The IKEA Adelaide Solar and Battery Microgrid (IKEA Microgrid) concept was developed by Planet Ark Power (eleXsys Energy). It was acquired by Epic Energy in February 2020, and is now under construction by Planet Ark Power with the system expected to be fully commissioned by early 2022.
It will comprise a 1.2MWp of rooftop solar array consisting of 3,024 QCell panels coupled with a 3.36MW / 3.45MWh CATL lithium-ion battery energy storage system. The systems will be managed by Planet Ark Power's eleXsys dynamic voltage control platform.
The solar array is expected to generate enough renewable energy to supply c.70% of the retail outlet's annual consumption, equivalent to approximately 370 homes each year.
The environmental benefit from the IKEA Microgrid is equivalent to 795 tonnes of avoided CO2 emissions per annum, and to taking c.265 cars off the road.
The IKEA Microgrid will be owned and operated by Epic Energy with a long term offtake agreement in place with IKEA in relation to the electricity generated by the solar installation.
The battery will be operated in the wholesale electricity market, participating in energy markets while providing valuable grid support services in Frequency Control Ancillary Services markets.
The project has had strong support from the South Australian Government and is the beneficiary of a $1.95m grant from the South Australian Government via its Renewable Technology Fund. The aim of this grant is to help better manage the local network and improve the quality of power to nearby homes and businesses.