The Yawong Wind Farm, acquired by Epic Energy in 2019, can generate enough renewable energy to power approximately 6,200 homes each year.
Project name: Yawong Wind Farm
Location: Central West Victoria
Nameplate capacity: 7.2MW
Year commissioned: 2018
Average generation: 31 GWh p/a
Number of homes powered: 6,200 p/a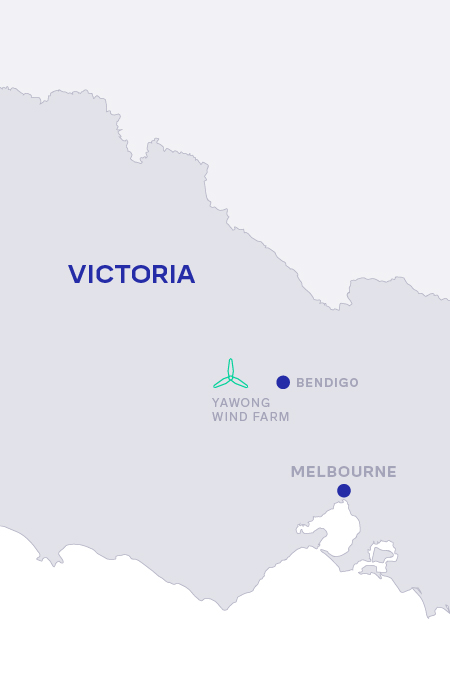 About the Yawong Wind Farm
The Yawong Wind Farm was developed and constructed by BayWa r.e. Wind Pty Ltd in 2018, commenced operations in late 2018, and was acquired by Epic Energy in April 2019.
Located approximately 17km northeast of St. Arnaud in Victoria, the site was chosen for its undisturbed wind flow with strong, consistent wind speeds, its close proximity to the electrical grid, and large setbacks to nearby dwellings.
The wind farm has a capacity of 7.2 MW comprising two Vestas V126 3.6MW turbines each with a hub height of 87m. The wind turbines can provide the equivalent energy usage of around 6,200 households, and connect to the existing 22 kV power line that runs adjacent to the site.
Yawong is owned and operated by Epic Energy working alongside its key partners. A long-term offtake agreement for both the electricity generated and the Large Scale Renewable Generation Certificates is in place along with a long-term operations and maintenance agreement.
The Yawong Community Fund has been established to share the benefits of Epic Energy's Yawong Wind Farm with the local community. An annual contribution will be made to the Charlton Lions Club for each year over the life of the project, supporting a community car for transporting people in need to medical appointments.
We value the community's feedback. If you have any general enquiries concerning the Yawong Wind Farm, please contact us.
If you have any complaints in relation to the Yawong Wind Farm, view a copy of our Complaint Investigation and Response Plan (PDF) and contact us on the details below.
Address: Level 6, 70 Franklin St, Adelaide, SA 5000
Toll-free phone: 1300 662 734
Email: