Moomba to Adelaide Pipeline System (MAPS), South Australia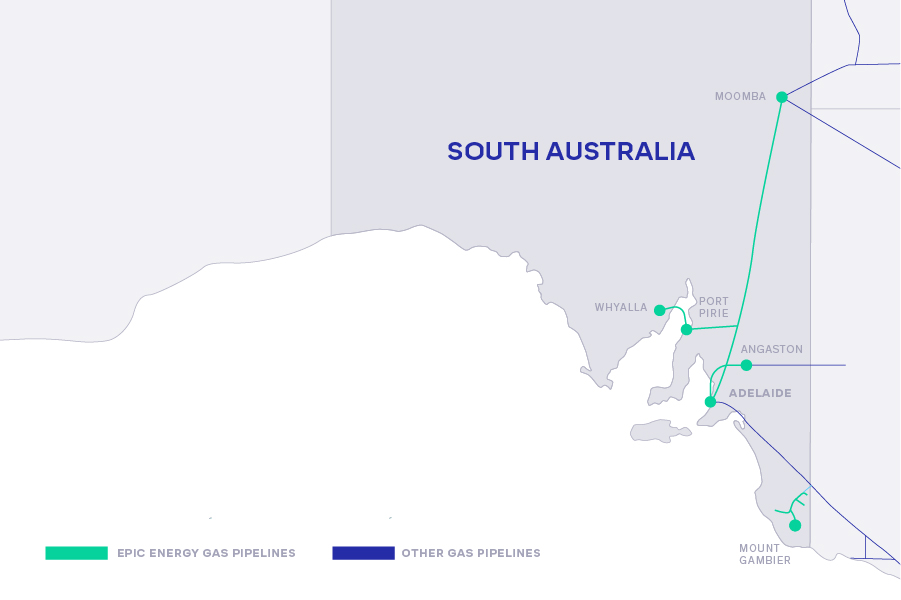 Epic Energy took ownership of the MAPS in the mid-1990s when it was privatised.
The MAPS is one of Australia's oldest and longest pipelines. It was developed by the Pipelines Authority of South Australia (a Government owned utility) and commenced operation on 28 November 1969, delivering gas from Moomba, in the Cooper Basin, for use in South Australian power generation, industrial and domestic applications. The pipeline was privatised in 1995.
The MAPS supplies gas to regional centres as well as to Adelaide. A pipeline lateral running from the mainline supplies Port Pirie and Whyalla. An additional lateral to Angaston delivers gas to industrial users and into the Riverland Pipeline that, in turn, supplies gas users in Berri, Murray Bridge and Mildura.
In addition to delivering gas from the Cooper Basin into the South Australian market, the MAPS can receive gas from southeast Queensland through the APA-owned 'QSN Link' and from Victoria through the SEA Gas pipeline.
Gas transportation contracts are in place for various contract terms with significant business partners in the electricity generation, gas distribution and industrial sectors. End users of gas include Origin Energy, AGL, Engie, Liberty OneSteel and Adelaide Brighton Cement.
Further information about the MAPS, including a schematic map, pipeline receipt and delivery points, service usage information for the prior month and service availability for the next twelve months, is outlined in the following document:
Pipeline Service Information
For information about pipeline services offered on MAPS, any locational limitations on service availability and the service priority, please see the following document:
The standard terms and conditions for access to the MAPS are provided on the Pipeline Access page. The methodology used to calculate the standard price in those terms can be found here.
Epic Energy is required to publish financial information about the MAPS pursuant to Part 23 of the National Gas Rules. This information is available here. Epic Energy will be required to publish financial historical information and cost allocation methodology under Part 10 of the National Gas Rules from December 2025.
Operational Transportation Service Agreement
To enable participation in the Capacity Trading Platform and Day Ahead Auction prospective shippers may request to enter into a standard Operational Transportation Service Agreement (Standard OTSA).  The Standard OTSA is available here. Epic also offers a day-ahead auction service; interruptible capacity on a day ahead basis to be nominated before the nomination deadline.